The RYZON trisuit comparison – Which suit suits you?
Verge Series

High-performance suit that marks a new era of temperature regulation under the most challenging conditions.
600€

Myth Series

Multi-award-winning suit with excellent hydrodynamic and aerodynamic properties.
450€

Signature Series

Your companion for special moments on the track. A triathlon suit that combines comfort and compression.
290€
Verge Aero Tri Race Suit
Our premium tri suit – developed with Jan Frodeno
The Graphene Gridflow Technology (GGT) forms the basis for the tri suit's unique temperature regulation. Thermally conductive Graphene Plus® is used on the inside of the suit. In combination with the highly technical suit's innovative Advanced Compartment System, the GGT can actively contribute to cooling the entire body by storing ice or wet sponges in an inner chest pocket. Thanks to the graphene conduction system, the cold reaches the entire torso up to the main arteries of the groin and thighs. In addition, Coldblack® technology is processed in the yarn of the suit, which minimizes the absorption of solar energy and thus the heating of the suit many times over.
The foundation for fast times is formed by compressive, hydrodynamic and aerodynamic premium fabrics from Italy.
€600
View sizes & colors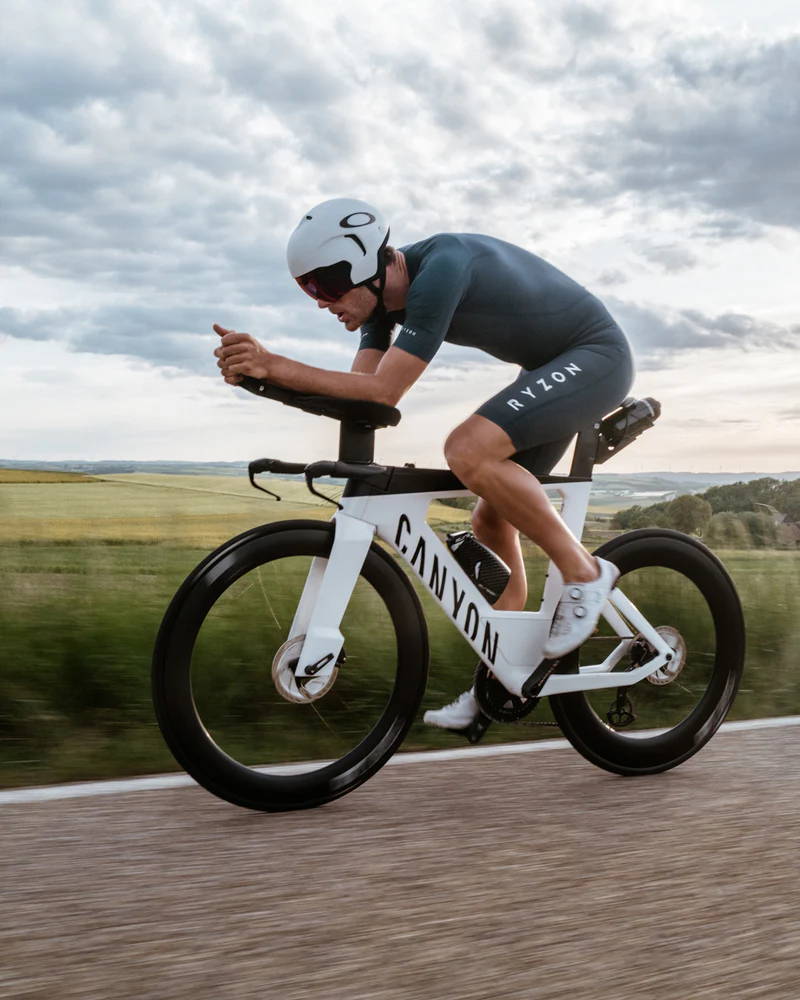 Myth Aero Sleeve Tri Race Suit
Ready for new best times with maximum hydro and aerodynamics
Award-winning suit that gives you the best possible support in every discipline. Developed and designed in Cologne with athletes like Jan Frodeno. Produced in Portugal with a high-quality fabric from Italy.
Myth is at home where we start counting seconds. Its thin but highly compressive material impresses with its excellent hydrodynamic and aerodynamic properties. A material coating was chosen for ideal hydrodynamics, which allows the water to roll off the surface. At the same time, this brings with it a certain buoyancy because tiny air bubbles are held under the body – an effect known from shark skin. It enables ideal gliding in the water and ensures that you don't need another swim suit over the triathlon suit when the water temperature allows it.
The body-hugging fit, flat-taped seams and the material structure on the sleeves ensure not only minimized water resistance but also optimal aerodynamics on the bike.
To counteract overheating of the body in the sun, Coldblack® technology was incorporated into the yarn of the tri suit. As a result, even dark fabric absorbs less solar radiation and behaves like a white shirt in the sun.
€450
View sizes & colors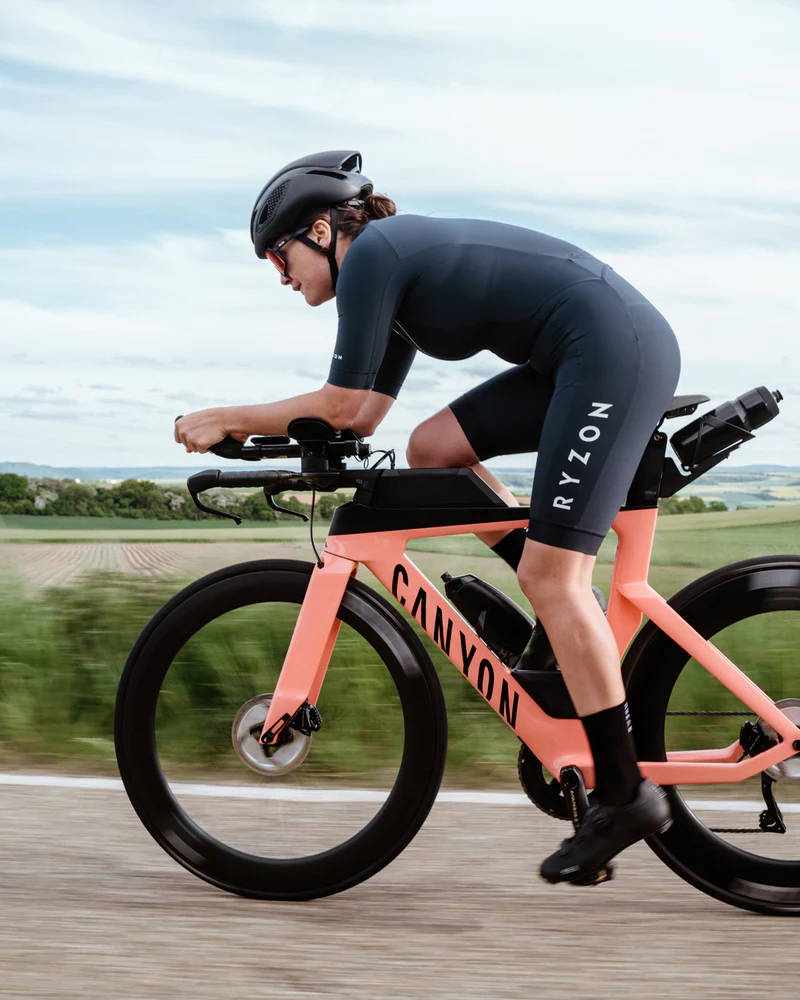 Signature Sleeve Tri Suit
The perfect balance of compression and freedom of movement
Your companion for special moments on the track. A triathlon suit that combines comfort and compression.
The Signature Sleeve Tri Suit impresses above all with its supple material from France, which offers you a comfortable feeling and at the same time sufficient support throughout the competition. It has an elegant, matt look and is opaque, dimensionally stable and reliably protects you from UV radiation during competitions. The body-hugging fit of the Tri Suit minimizes friction points and ensures high aerodynamics on the bike. At the same time, the elastic fabric ensures ideal power development during swimming and on the run. It also absorbs little water, which guarantees quick drying after swimming.
The ergonomic seat pad ensures maximum comfort without restricting movement when running. You can stow your competition provisions in the wide back pocket. The RYZON Camlock Slider allows easy and flexible adjustment of the zipper with just one hand.
Also available in the Signature Jan Frodeno Edition.
€290
View men's suit
View women's suit
The perfect triathlon suit for you
Is your triathlon journey just beginning or are you embarking on the Ironman adventure? No matter where you stand: the right tri suit accompanies you on your mission. The advantages are obvious: you can wear the one-piece while swimming, running and cycling without wasting time changing in between. Whether in training or competition, on the middle or long distance: the well-thought-out features of the triathlon one-pieces from RYZON ensure that you never lose sight of your goal. The comfortable seat pad ensures comfort during long bike rides, but at the same time it doesn't get in the way when swimming or running. In the wide back pocket, you can easily carry food on your body in long-distance races.
However, there is one point where short distances are particularly important to us – in production and delivery. That's why we have all of our tri suits produced in Europe (Portugal). The triathlon suits are also REACH-compliant and bear the STANDARD 100 by OEKO-TEX® label.
So if you want to buy a tri suit, you've come to the right place.
Everything at a glance
Breathable material with UV protection thanks to coldblack® technology
Perfect fit that provides compression and prevents friction
Improved aerodynamics for more speed
Triathlon equipment

Matching our Tri Suits: The gear you need to perform at your best. Discover the basics for your training and the next competition.

To the triathlon equipment

Triathlon socks

Athletes are aware of the importance of good triathlon socks. For us, they are not just a marginal product. Discover the hidden performance of the socks.

View triathlon socks
The tri suit: An uncompromising all-rounder in the air and in the water
Nobody wants to lose time changing clothes during a competition. And why stock up on multiple kits when you can find everything you need in one triathlon suit?
Our Tri Suits combine everything you need for your training. A body-hugging, dynamic and compressive cut supports you without constricting you. Maximum freedom of movement is guaranteed, so that your strength can unfold completely freely.
Your second skin offers you effective protection against UV radiation and, thanks to its hydrodynamic properties, glides perfectly through the water while absorbing extremely little water. With taped seams and a flexible zipper with camlock slide mechanism, you can look forward to maximum comfort during training. In addition, specifically reinforced side panels prevent friction points even during long training sessions, so that you can deliver best times with a high degree of concentration and without distraction.
Triathlon suits for women and men
Almost all of our tri suits are unisex products. We have just expanded our range with the first one-piece suit for women. This Signature Sleeve Tri Suit Women is tailored specifically for women and supports your performance with dynamic compression. Of course, we keep the highly functional properties of our other suits and add a finishing touch that gives female triathletes speed and stability.
Collapsible content
What are the advantages of a triathlon suit?
Triathlon combines three disciplines: swimming, cycling and running. Normally, you would have to change clothes for each of these disciplines. However, a trisuit is equipped in such a way that you can wear it throughout the whole triathlon without wasting time and worrying about changing. So you can concentrate on the essentials: on the harmony between you and your body
Can you also swim in a triathlon one-piece suit?
Our trisuits are ideal for swimming – even without a wetsuit. The material absorbs little water and therefore does not weigh you down. Sometimes, open water swimming still requires a wetsuit. You can easily put it on over the thin and tight-fitting triathlon suit.
Are triathlon one-piece suits suitable for running?
Out of the water, onto the bike saddle and then into the running shoes. A triathlon suit must therefore meet very different requirements in order to support you in each of the three disciplines. When running, as when cycling, it is particularly important that the triathlon suit is breathable. For running, there's also a zipper on the chest that you can unzip while you run to breathe more easily. The highlight of a Ryzon trisuit: The zipper can be fixed halfway, so you can quickly and easily close it completely again.